Do I have to Sign for a Summons in a New York Debt Collection Lawsuit?
By: Robert J. Nahoum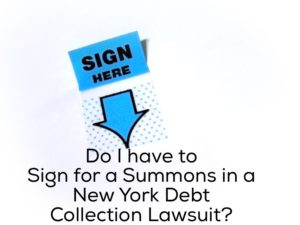 The Problem:
Were you surprised to learn that your bank account has been frozen or your wages have been garnisheed?  If your answer is yes, a debt collector likely has a default judgment against you from a lawsuit you had no idea had been filed.
In debt collection lawsuits, most cases are won on default where the consumer never answered the complaint.  Many consumers don't answer because they never knew they had been sued.
Many consumers mistakenly believe that in order to be property served with summons, they must "sign for it".
The Rule:
Before a court can render a judgment against a defendant in a debt collection lawsuit, the court must first acquire PERSONAL JURISDICTION over the defendant.  Personal jurisdiction is obtained by serving the defendant with a summons and complaint.
Here are the three ways to properly effectuate service of the summons and complaint in a debt collection lawsuit in New York:
Personal Service – Delivering a copy of the summons and complaint personally to the defendant;
Suitable Age and Discretion Service – Delivering a copy of the summons and complaint to someone in the defendant's home of "suitable age and discretion" (someone competent enough to pass the papers on to the defendant);
Nail and Mail – After at least two failed attempts at personal or suitable age and discretion service, the process server may post a copy of the summons and complaint to the defendant's door and mail a copy to his or her last known address.
Notably, none of the three authorized methods of service of process require the defendant (or anyone else to "sign" for the summons.  In fact, the process served need not even hand the papers off, it is sufficient to lay the papers at the feet of the recipient, turn around and walk away without so much as saying a word.
The Solution:
Default judgments can be reversed or "vacated" if the defendant can show the court that he or she was not properly served or that he or she has a reasonable excuse for defaulting.  If a defendant can meet these requirements, he or she can make motion to the court by "order to show cause to vacate the default judgment".
If you need help settling or defending a debt collection law suit, stopping harassing debt collectors or suing a debt collector, contact us today to see what we can do for you.  With office located in the Bronx, Brooklyn and Rockland County, the Law Offices of Robert J. Nahoum defends consumers in debt collection cases throughout the Tristate area including New Jersey.
The Law Offices of Robert J. Nahoum, P.C
(845) 232-0202
www.nahoumlaw.com