By: Robert J. Nahoum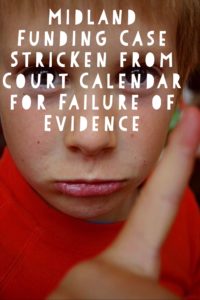 It is common knowledge among debt collection attorneys (both plaintiffs and defendants) that debt buyers lack the evidence needed to prove their cases.  Nevertheless, debt collectors win these cases because of defaults by the consumers and the costs of litigation.
Judge Ignatius L. Muscarella of the First District Court of Nassau County was having none of it in a recent case brought by the infamous debt buyer Midland Funding, LLC.  Midland made a motion to the court to strike the pro se defendant's answer as a penalty for failing to answer discovery demands.  A motion to strike would result in a default judgment in favor of Midland.  However, before compelling the defendant to answer the demands, Judge Muscarella flipped the script on Midland and ordered its attorneys, the debt collection mill Pressler & Pressler, to show the court "a complete copy of the alleged assignment and proof of notice of the assignment to defendant and to the Court within 30 days of the date of this Order."
In response, Midland did produce evidence that "a number of accounts [had been assigned] to plaintiff Midland] but "Missing, however, is anything to establish any connection between [the down chain assignors] to [Midland'] alleged assignor. Nor is there anything to identify the defendant's specific account as being involved with any of the dealing between the [the down chain assignors].
As a consequence for Midland's failure to demonstrate that it had the standing to file this debt collection lawsuit, Judge Muscarella effectively dismissed the case by striking it from the Court's calendar.  A fatal blow for this debt collection lawsuit but really just a drop in the bucket for Midland who filed more than 24,000 New York debt collection lawsuits in 2013 alone.
If you need help settling or defending a debt collection law suit, stopping harassing debt collectors or suing a debt collector, contact us today to see what we can do for you.  With office located in the Bronx, Brooklyn and Rockland County, the Law Offices of Robert J. Nahoum defends consumers in debt collection cases throughout the Tristate area including New Jersey.
The Law Offices of Robert J. Nahoum, P.C
(845) 232-0202
www.nahoumlaw.com
[email protected]