By: Robert J. Nahoum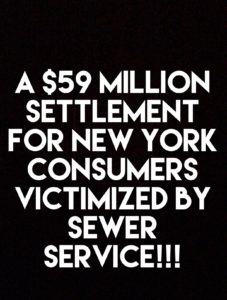 As reported in the NY Times on Friday, November 13, 2015, a class of approximately 355,000 New York consumers victimized by the fraudulent debt collection practice of sewer service will receive $59 million in a class-action settlement that also bars a major network of debt collectors from continuing the unlawful practice.
The settlement involves a network of unscrupulous debt collectors, a debt collection law-firm and process servers including Mel Harris & Associates, LR Credit, and Samserv.
Under the settlement, the debt collectors have agreed to have agreed to the following:
LR Credit, its affiliates and subsidiaries will no longer engage in the consumer debt collection business;
All of LR Credit's debt collection accounts will be transferred to Rolling Jubilee, a non-profit whose exclusive mission is to buy and abolish consumer debt;
190,000 New York court judgments will be vacated and dismissed;
Samserv will pay process servers for unsuccessful attempts at the same rate as successful attempts;
The lawsuit alleged claims for violations of the Fair Debt Collection Practices Act (FDCPA), The Racketeer Influenced and Corrupt Organizations Act (RICO), and New York Unfair and Deceptive Acts and Practices Laws. The case was brought on behalf of consumers by MFY Legal Services and New Economy Project.
If you need help settling or defending a debt collection law suit, stopping harassing debt collectors or suing a debt collector, contact us today to see what we can do for you.  With office located in the Bronx, Brooklyn and Rockland County, the Law Offices of Robert J. Nahoum defends consumers in debt collection cases throughout the Tristate area including New Jersey.
The Law Offices of Robert J. Nahoum, P.C
(845) 232-0202
www.nahoumlaw.com