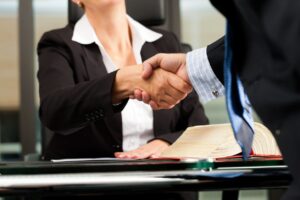 By: Robert Nahoum
Entrepreneur Client Sued By American Express
We recently received a call from a prospective client who was being sued by American Express for an unpaid credit card.  The client is an entrepreneur in an industry with drastic ups and downs.  During a recent down time in her business, she fell behind on an account with American Express and was never able to catch up.
Ultimately, American Express sued for many thousands of dollars through their lawyers Relin, Goldstein & Crane, LLP.  The lawsuit, and a potential judgment that might result, jeopardized her perspective business projects and so the case needed to be resolved quickly.
We Settled Quicky, Before We Even Needing to Answer the Lawsuit
We first reviewed all the court papers, as we do in every debt collection defense case, to analyze whether there were any viable defenses.  After determining that that there were no defenses, we began negotiating with American Express attorneys Relin, Goldstein & Crane, LLP'.  In some cases, American Express outsources its debt collection lawsuits to outside counsel like in this case, while in other cases, American Express handles its cases through its in-house legal department.  We were able to quickly reach a favorable settlement for our client paying only pennies on the dollar.
There are a few key factors that contributed to the success of this case. First, we were able to demonstrate to American Express that my client was a good faith debtor. She had made some payments on the debt in the past, and she was willing to make a lump sum payment to settle the debt.
Second, we were able to negotiate effectively with American Express. We knew that American Express was likely to settle for less than what was owed, so we were prepared to advocated for a fair and reasonable result.
Finally, my client was willing to work with me to reach a settlement. She understood that settling the debt would be in her best interest, and she was willing to make the necessary payments.
If you are being sued by a debt collector, don't give up hope. You may be able to negotiate a settlement that will save you a significant amount of money.
We Can Help You With Your Debt Collection Defense Needs
If you need help settling or defending a debt collection lawsuit, stopping harassing debt collectors or suing a debt collector, contact us today to see what we can do for you.
The Law Offices of Robert J. Nahoum, P.C
(845) 232-0202
www.nahoumlaw.com
[email protected]