By: Robert J. Nahoum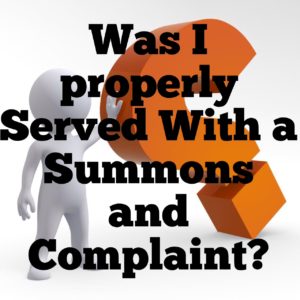 The Problem:
Were you surprised to learn that your bank account has been frozen or your wages have been garnisheed?  If your answer is yes, a debt collector likely has a default judgment against you from a lawsuit you had no idea had been filed.
In debt collection lawsuits, most cases are won on default where the consumer never answered the complaint.  Many consumers don't answer because they never knew they had been sued.  Most don't know they've been sued because the debt collector never properly served them with copies of the summons and complaint.
The Rule:
According to New York State law, before a court can render a judgment against you, it must first acquire PERSONAL JURISDICTION over you.  Personal jurisdiction is obtained by serving you with a summons and complaint; but, you must be properly served.  Here are the ways you can be served:
Personal Service – delivering a copy of the summons and complaint to you personally;
Suitable Age and Discretion Service – delivering a copy of the summons and complaint to someone in your home of "suitable age and discretion" (someone competent enough to pass the papers on to you);
Nail and Mail – After at least two failed attempts at personal or suitable age and discretion service, the process server may post a copy of the summons and complaint to the door and mail a copy to your last known address.
The Solution:
A default judgment can be reversed or "vacated" if the consumer can show the court that he or she has (1) a defense to the case (like "I don't owe the money", "I don't owe that much money" or "I don't know who the plaintiff is"); and (2) that he or she has a reasonable excuse for defaulting (like "I didn't know I had been sued").
If a consumer can meet these requirements, he or she can make motion to the court by "order to show cause
to vacate the default judgment".  If successful, the case will return to the beginning and the consumer will be given the chance to answer the complaint and mount a defense.
The Law Offices of
Robert J. Nahoum, P.C.
99 Main Street, Suite 311
Nyack, NY 10960-3109
Ph: (845) 232-0202
Fax: (888) 450-8640
Email: [email protected]
Web: www.NahoumLaw.com
Web: www.FDCPAAttorney.net