By: Robert J. Nahoum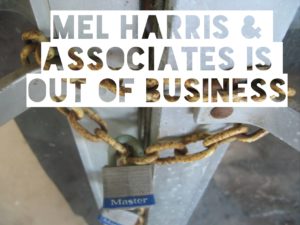 Embattled New York debt collection law firm Mel Harris & Associates has closed its doors forever.
Through its harassing and abusive debt collection tactics, Mel Harris & Associates has disrupted the lives of tens of thousands of New York consumers for years.  Well, it appears the chickens finally came home to roost.
Mel Harris & Associates had been sued countless times by consumers for violations of the Fair Debt Collection Practices Act (FDCPA), a federal law that regulates the collection of consumer debts.   In recent years, Mel Harris & Associates had gotten into much deeper trouble – the infamous debt collector was named as a defendant in a class action lawsuit entitled Monique Sykes et al., vs. Mel Harris & Associates, LLC et al., where Mel Harris was accused of knowingly and deliberately failing to serve notice of debt collection lawsuits, a practice commonly known as sewer service.  Sewer service ultimately leads to fraudulently obtained default judgments frozen bank accounts, garnished wages and ill-obtained debt settlements.
The Sykes case gained national attention when the Consumer Financial Protection Bureau (CFPB) and Federal Trade Commission (FTC) filed a joint amicus brief alleging Mel Harris' conduct violated the federal Fair Debt Collection Practices Act (FDCPA), the Racketeer Influenced and Corrupt Organizations Act (RICO) penalties.
The Second Circuit Court of Appeals ultimately sided with the CFPB and the FTC when it upheld class certification for more than 100,000 consumers who allegedly fell victim Mel Harris' fraudulent debt-collection model. The Court reasoned that falsifying affidavits of service exposes lawyers to liability under the FDCPA for a process servers' sewer service if they knew the affidavits of service were likely false.
Apparently, the Sykes case became more pressure than Mel Harris & Associates could bear.  A Google search for Mel Harris & Associates reveals that the unscrupulous debt collector is "permanently closed".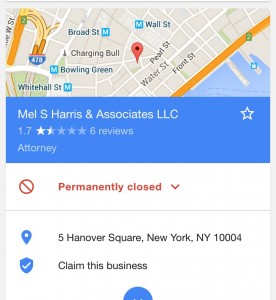 Mel Harris & Associates website, which is still active, states that it has "ceased doing business" and that for "questions concerning your account, please contact Stephen Einstein & Associates, P.C."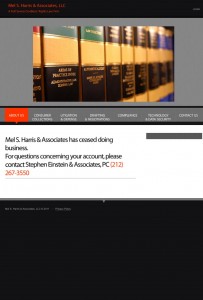 Stephen Einstein & Associates, P.C. is another New York area debt collection mill.  It remains to be seen whether the debt collection tactics of Mel Harris & Associates will be inherited by Stephen Einstein who have themselves been sued by many times for violations of the FDCPA.
According to the debt collection industry blog "Inside ARM":
"The firm continues under the leadership of Founder Stephen Einstein and newly promoted Managing Partner Anthony S. Poulin. Einstein's current staff of professionals will be joined by several administrative and support personnel from Mel S. Harris and Associates, P.C. whose equity principals are retiring and ceasing operations.
Current Mel S. Harris & Associates Executive Director Michael Young, a seasoned executive with in-depth technological experience in all aspects of legal collections, also joins Einstein. Young brings a team of experienced IT and MIS professionals to bolster Einstein's current staff of data security experts, programmers and technology specialists."
If you need help settling or defending a debt collection law suit, stopping harassing debt collectors or suing a debt collector, contact us today to see what we can do for you.  With office located in the Bronx, Brooklyn and Rockland County, the Law Offices of Robert J. Nahoum defends consumers in debt collection cases throughout the Tristate area including New Jersey.
The Law Offices of Robert J. Nahoum, P.C
(845) 232-0202
www.nahoumlaw.com
[email protected]