Kirschenbaum & Phillips, PC – Sloppy and Noncompliant
November 10, 2015
rnahoum
By: Robert J. Nahoum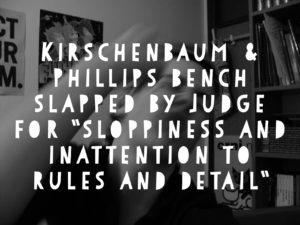 Infamous debt collection law-firm Kirschenbaum & Phillips, PC was bench slapped by Federal District Court Judge Eric N. Vitaliano for its "sloppiness and inattention to rules and detail" in a scathing opinion issued by the Court.  The matter entitled Rivero v. Kirschenbaum & Phillips, PC, was filed in United States District Court, Eastern District of New York.
Kirschenbaum & Phillips, who regularly represents creditors a debt buyers in debt collection cases throughout the state, was sued by a self-represented consumer for violations of federal debt collection laws known as the Fair Debt Collection Practices Act (FDCPA for short).  Kirschenbaum & Phillips failed three times in its efforts to have the case dismissed not based on the merits of the case but due to its refusal to comply with the Court's rules.
The FDCPA is a federal law that regulates the collection of consumer debts. It precludes third party debt collectors from using false, misleading, deceptive and harassing debt collection tactics.  If a debt collector violates the FDCPA, it can be sued by the consumer for statutory damages up to $1,000.00 plus actual damages (like pain and suffering) and attorney's fees.
Like many other high volume debt collection law-firms, Kirschenbaum & Phillips is routinely accused of violating the FDCPA in part due to the sloppy way they prosecute debt collection cases.  Apparently this sloppiness and inattention to the rules is not limited to the cases they file against consumers but is also their way of doing business when they themselves are sued for violating the consumer protections rights of litigants.
If you need help settling or defending a debt collection law suit, stopping harassing debt collectors or suing a debt collector, contact us today to see what we can do for you.  With office located in the Bronx, Brooklyn and Rockland County, the Law Offices of Robert J. Nahoum defends consumers in debt collection cases throughout the Tristate area including New Jersey.
The Law Offices of Robert J. Nahoum, P.C
(845) 232-0202