By: Robert J. Nahoum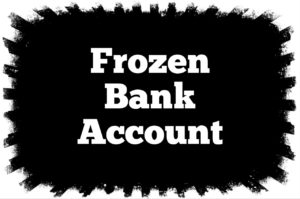 In New York, the quickest way for a debt collector to collect on a judgment is with a frozen or "restrained" bank account. Often, a consumer doesn't even know he or she has been sued in a debt collection law suit until a check bounces or the ATM won't spit out any money.
Under New York law, when a consumer's bank account is frozen, to account for interest (9% is the NY statutory rate), the bank freezes twice as much as the judgment amount. To add insult to injury, the bank will almost always charge the consumer some kind of penalty or administrative fee for restraining the account, usually around $100.00.
The ideal way to avoid this unfortunate circumstance is to answer the lawsuit in the first place. However, as is generally the case, the consumer's account was frozen as the result of a default judgment and the consumer didn't even know he was sued. In this situation, the best thing to do is to run to the courthouse and get the judgment vacated by filing an order to show cause. Even better, if practical, hiring a competent and qualified New York lawyer is the best way to get your account unfrozen, defend the lawsuit and protect your legal consumer rights.
On January 1, 2009, the New York Exempt Income Protection Act ("EIPA") came in to effect and limited the ability of judgment creditors to freeze a consumer's exempt assets. Exempt assets include:
• social security;
• pensions;
• public assistance;
• workers compensation;
• unemployment insurance;
• child support, and spousal support or maintenance;
• 90 percent of earnings deposited into a consumers' bank account within 60 days prior to the date the bank receives the restraining notice.
To make certain that none of these exemptions are overlooked, the EIPA precludes certain funds from being frozen including:
• the first $2,500 in a consumer's bank which are "reasonably identifiable" as "statutorily exempt" AND that were made electronically or by direct deposit during the 45-day period prior to service of a restraining notice; or
• where deposits are not made by direct deposit, the first $1,716 of such deposit.
Beware; a frozen bank account is a symptom of a much bigger problem. You have a debt collector hot on your trail and he will stop at nothing until he is paid. You as the consumer have many consumer protection tools available to you and should never lie down and make it easier for the debt collector. Make him prove his case through competent, admissible evidence. Make him comply with debt collection exemptions. Make him comply with debt collection laws. If he fails to adhere to these laws SUE HIM! You may be entitled actual damages, $1,000 in statutory damages and your lawyers' fees.
About the Author
Robert Nahoum is a New York State attorney practicing consumer protection and general litigation in the Tri-State Area including New York City, Westchester, Rockland, Nassau, Suffolk, Bergen and Fairfield Counties. His practice includes Fair Debt Collection Practices Act (FDCPA), Fair Credit Reporting Act (FCRA), putting an end to illegal debt collection practices and debt collection harassment, debtor's rights and mortgage foreclosure defense.
Contact The Law Offices of Robert J. Nahoum, P.C today to see if you have a case against a debt collector (845) 232-0202; www.FDCPAAttorney.net
The Law Offices of
Robert J. Nahoum, P.C.
99 Main Street, Suite 311
Nyack, NY 10960-3109
Ph: (845) 232-0202
Fax: (888) 450-8640
Email: [email protected]
Web: www.NahoumLaw.com
Web: www.FDCPAAttorney.net