By: Robert J. Nahoum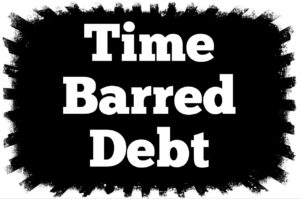 Among the worst debt collector tricks is suing on time-barred debts. I find this trick particularly dirty because it requires not only the debt buyer, but the collection agency and their attorneys to collude and contribute to this clear consumer protection violation.
These days, consumer debt buying is a thriving $100 billion a year industry. Debt buyers such as LVNV,  Asset Acceptance and Midland Funding feed of the carcasses of dead debts. Many of these debts have died because they are beyond the statute of limitations. Each state has a set of laws requiring that lawsuits be brought within a given period of time. Lawsuits brought beyond the statute of limitations are time-barred and should be dismissed. Not only that, suing consumers on time-barred debts is, in most circumstances, a violation of federal debt collection laws called the Fair Debt Collection Practices Act (FDCPA for short).
Most debt collection lawsuits are subject to the statute of limitations applicable for claims of "breach of contract". In New York, New Jersey and Connecticut where we practice, the statute of limitations for breach of contract is generally at most 6 years from the day the debt – or payment on an open-ended account – was due. So, if you've been sued on an old debt you may have a statute of limitations defense as well as an FDCPA claim. The best way for a consumer to assert his or her statute of limitations defense and sue for an FDCPA violation is to hire a competent consumer protection attorney to represent you.
If it turns out a debt collector did sue you on a time-barred debt, your attorneys' fees for defending the debt collection lawsuit will likely be recoverable as actual damages when you sue the debt collector for the FDCPA violation. Additionally, you will likely recover another $1,000.00 in statutory damages as well as the lawyer's fees for the FDCPA case. That's how you stand up for yourself and stick it to the dirty debt collector.
About the Author
Robert Nahoum is a consumer protection attorney practicing in the Tri-State Area including New York City, Westchester, Rockland, Nassau, Suffolk, Bergen and Fairfield Counties. His practice includes debt defense, debtors' rights, Fair Debt Collection Practices Act (FDCPA), Fair Credit Reporting Act (FCRA), putting an end to illegal debt collection practices and debt collection harassment and mortgage foreclosure defense.
Contact The Law Offices of Robert J. Nahoum, P.C today to see if you have a case against a debt collector (845) 232-0202.
48 Burd Street, Suite 300
Nyack, NY 10960-3109
Ph: (845) 232-0202
Fax: (888) 450-8640
Email: [email protected]
Web: www.NahoumLaw.com