What is the Debt Collection Statute of Limitations in New York?
By: Robert J. Nahoum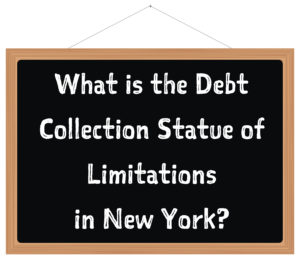 THE PROBLEM:
A debt collector has been sending you letters, calling you on the phone and may have even sued you.  It's been like pulling teeth to get the debt collector to explain what the debt is and where it came from.  As it turns out, the debt collector is not the company that originally extended you credit, it's a debt buyer who now claims to own the right to collect the debt from you. You are perplexed because the debt they claim to have bought is old, really old, so old that you have forgotten about it.  The question is – how old is too old for them to collect?  What is the debt collection statute of limitations in New York?
The Rule:
There is a time limit in which a debt collector can sue to collect a debt.  This time limit is called the "statute of limitations."  The statute of limitations for filing a debt collection lawsuit under New York law for a "consumer credit transaction" is 6 years.  However, the operative question is what law applies.  Often, it can be difficult to tell at the outset of the case what statute of limitations applies.  New York State law provides that when a foreign entity sues a New York State resident on a claim that accrued outside the state of New York, courts must apply the foreign state's statute of limitations if it bars the claim.  Debts that accrue to a foreign corporation are deemed to accrue in the state where the creditor resides and sustains economic injury. A corporation is said to reside in the state of its principal place of business or its state of incorporation.  Many credit card companies are incorporated in states other than New York, such as Delaware and elsewhere, and many of these states have shorter statutes of limitations than New York. For example, Delaware has a 3 year statute of limitations on contracts.
The statue of limitations clock begins to run from the "date of the default."  For most credit card cases, the "date of the default" is about 30 days after you last made a payment.  If you made a payment at any time after you first stopped paying, the debt collector's time to sue you starts to run again.
Expiration of the statute of limitations does not prevent the debt collector from trying to collect the debt; it just precludes them from suing you for it.  Under newly enacted New York debt collection laws, if the debt collector is trying to collect a debt with an expired statute of limitations, it has to tell you that it is too old to sue.
Federal debt collection laws called the Fair Debt Collection Practices Act (FDCPA), regulates the collection of consumer debts.  The FDCPA precludes third party debt collectors from using false, misleading, deceptive and harassing debt collection tactics.   Suing on a debt that is beyond the statue of limitations is a violation of the FDCPA.
If a debt collector violates the FDCPA, you can sue for statutory damages up to $1,000.00 plus actual damages (like pain and suffering) and your attorney's fees.
WHAT YOU SHOULD DO:
If a debt collector has sued or threatened to sue on a debt which is beyond the New York debt collection statute of limitations, take a stand and fight back.  Such conduct might be a violation FDCPA.  In FDCPA cases, The Law Offices of Robert J. Nahoum, P.C. doesn't charge our clients a penny out of pocket.
If you need help settling or defending a debt collection law suit, stopping harassing debt collectors or suing a debt collector, contact us today to see what we can do for you.  With office located in the Bronx, Brooklyn and Rockland County, the Law Offices of Robert J. Nahoum defends consumers in debt collection cases throughout the Tristate area including New Jersey.
The Law Offices of Robert J. Nahoum, P.C
(845) 232-0202
www.nahoumlaw.com