By: Robert J. Nahoum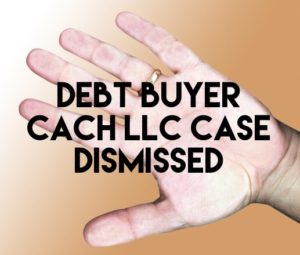 In a debt collection lawsuit, the Plaintiff (the party bringing the lawsuit) always has the burden to prove that the Defendant (the party being sued) is responsible for the debt.  To meet this burden, a junk debt buyer like CACH LLC must prove that (1) it has the right to sue; (2) the debt is attributable to the defendant; and (3) that the amount sued for is correct.  It is never the burden of the Defendant to prove that he or she does not owe the debt.
To prove that a debt buyer owns the debt (called "standing"), it must show how it came to acquire ownership of the debt.  The sale of a debt from a creditor to a debt buyer or from one debt buyer to another is memorialized through an "assignment" in which the original creditor "assigns" ownership (and the right to collect the debt) to a new creditor (called an "assignee").
Often, debts are sold and resold over and over again to a number of subsequent debt buyers.  When this happens, the debt buyer must prove each and every assignment by showing a "chain of title" reaching all the way back in history to the original creditor.
A recent debt collection lawsuit brought by junk debt buyer CACH LLC against a Nassau, County New York consumer was dismissed because CACH failed to prove its standing.
CACH argued to the court on its motion for summary judgment that it was entitled to judgment against the consumer as a matter of law with even needing a trial.  The court disagreed and held that
"The 'drastic remedy' of summary judgment is appropriate only where there is no doubt as to the absence of a triable issue of fact (see Rotuba Extruders v Ceppos, 46 NY2d 223, 231 [1978]). It is the movant's burden to establish prima facie entitlement to judgment as a matter of law by tendering evidence in admissible form sufficient to eliminate any material issues of fact (Winegrad v New York Univ Med Cen., 64 NY2d 851, 853 [1985]). Failure to make such a showing requires denial of the motion, regardless of the sufficiency of the opposing papers (id.)."
"In assigned debt cases, a plaintiff-assignee must establish standing to pursue a claim by submitting proof in admissible form of a complete chain of assignment beginning with the original creditor (see Palisades Collection, LLC v Kedik, 67 AD3d 1329 [4th Dept 2010]; CACH, LLC v Sliss, 28 Misc 3d 1230[A] [Auburn City Ct 2010]). Plaintiff-assignee must also prove that defendant's particular account was included in the assignment (see Citibank [South Dakota], N.A. v Martin, 11 Misc 3d 219 [Civ Ct, New York County 2005]) and that defendant was given notice of the assignment (Tri City Roofers, Inc. v Northeastern Industrial Park, 61 NY2d 779, 780 [1984][actual notice of assignment necessary to charge defendant with duty to pay debt to assignee]; see also CACH LLC v Fatima, 32 Misc 3d 1231[A][Dist Ct Nassau 2011]). Failure to satisfy these requirements requires denial of summary judgment (see Palisades Collection, LLC v Gonzalez, 10 Misc 3d 1058[A][Civ Ct New York 2005])."
"Here, plaintiff has failed to provide the necessary documentary proof establishing that defendant defaulted on credit card payments to the original creditor and that the resulting debt was validly assigned to it."
If you need help settling or defending a debt collection law suit, stopping harassing debt collectors or suing a debt collector, contact us today to see what we can do for you.  With office located in the Bronx, Brooklyn and Rockland County, the Law Offices of Robert J. Nahoum defends consumers in debt collection cases throughout the Tristate area including New Jersey.
The Law Offices of Robert J. Nahoum, P.C
(845) 232-0202
www.nahoumlaw.com
[email protected]