What Is the Truth in Lending Act in Auto Sales
By: Robert J. Nahoum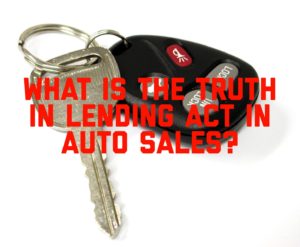 THE PROBLEM
You've decided to take the plunge and buy a new car.  Like most people, you don't have enough cash on hand to buy the car outright so you are planning to finance the purchase of your new car.  You get to the car dealership, find the car you want and negotiate a price.  Now, it is time to handle the financing; but how will you really know how much it's going to cost you?
THE RULES
The federal Truth in Lending Act (TILA) protects consumers in their dealings with lenders including car dealers by requiring full disclosure of the cost of credit.  Full disclosure allows consumers to shop around for the best deal.  Under TILA, information that must be revealed includes:
The term of the loan (how long it will take you to repay),
The total amount of the loan (the price of the car plus the cost of finance),
The annual interest rate,
The number of payments,
The amount of the payment, and
The due dates of all payments.
In most financed auto sales, the dealer initially acts as the lender.  However, the dealer immediately sells the car loan to an actual bank to whom you will be making payments. Because the dealer was the one to initially offer the credit, the dealer is required to give the TILA disclosures.
There are some unscrupulous auto dealers who, in violation of TILA, try to hide or disguise the finance charge.  In this situation, the cost of purchase is greater to a credit buyer than a cash buyer.  However, the difference in the cost is hidden in the sale by adding things like GAP insurance, extended third party warranties and other add-ons.  These hidden costs are not included in the TILA disclosure and thus violate the law.
WHAT YOU SHOULD DO
If you think a car dealer has not given you the full TILA discourse you are entitled to, or if you think the dealer has hidden or disguised the cost of finance, call an experienced consumer protection attorney familiar with auto fraud to discuss your options.  Under TILA, an aggrieved consumer can sue for up to $2,000 is statutory damagers, actual damages and attorneys' fees.
If you need help settling or defending a debt collection law suit, stopping harassing debt collectors or suing a debt collector, contact us today to see what we can do for you.  With office located in the Bronx, Brooklyn and Rockland County, the Law Offices of Robert J. Nahoum defends consumers in debt collection cases throughout the Tristate area including New Jersey.
The Law Offices of Robert J. Nahoum, P.C
(845) 232-0202
www.nahoumlaw.com
info@nahoumlaw.com