Is Credit Reporting An Attempt To Collect A Debt?
February 25, 2015
rnahoum
By: Robert J. Nahoum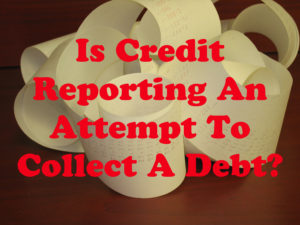 THE PROBLEM:
You're just about to close a deal on buying a new car, or perhaps a new home.  You've come to an agreement on the sales price and your sitting at the closing table, the only thing left is to secure the loan.  You surprisingly learn that there is a negative entry on your credit report from a company you are unfamiliar with.  The report says that you owe this company money for a debt you paid already off to the original creditor.  It is likely that the unfamiliar company is a debt buyer who has purchased this debt from the original creditor.  Your question – is the simple act of reporting the unfamiliar debt an attempt to collect that debt.
THE RULE:
The answer to this question (is the act of reporting a debt an attempt to collect that debt?) is important because if it is an attempt to collect a debt, you have consumer protection laws available to you.
Federal debt collection laws known as the Fair Debt Collection Practices Act (FDCPA for short) protects consumers from unscrupulous debt collectors.  The FDCPA establishes a general prohibition against the use of "false, deceptive, or misleading representation or means in connection with the collection of any debt."  The various subsections of the FDCPA, sixteen in total, provide a non- exhaustive list of practices that fall within this ban.
One of these protections prohibits a debt collector from communicating or threatening to communicate "credit information which is known, or should be known, to be false."  The latter prohibits the use of "any false representation or deceptive means to collect or attempt to collect any debt or to obtain information concerning a consumer."
WHAT YOU SHOULD DO:
If you have discovered an entry on your credit report for a debt you already paid off, you should contact an experienced consumer protection attorney with experience in the FDCPA to see if you have a case.
The FDCPA includes a private right of action under which a consumer may sue a debt collector for FDCPA violations.  If a debt collector is found to have violated the FDCPA, you may recover up to $1,000.00 in statutory damages, plus actual damages (for example pain and suffering) and your reasonable attorneys' fees.
The FDCPA empowers the consumer to swing the pendulum in the other direction and sue the debt collector for its wrongful conduct.
If you need help settling or defending a debt collection law suit, stopping harassing debt collectors or suing a debt collector, contact us today to see what we can do for you.
The Law Offices of Robert J. Nahoum, P.C
(845) 232-0202
www.nahoumlaw.com
info@nahoumlaw.com