Does the FDCPA Cover Personal Guarantees of Business Debt?
By: Robert J. Nahoum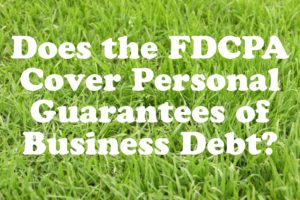 Federal debt collection laws, known as the Fair Debt Collection Practices Act (FDCPA for short), regulates the conduct of third party debt collectors.  The FDCPA generally prohibits debt collectors from using abusive debt collection tactics that are false, misleading and harassing.
If a debt collector violates the FDCPA, you can sue for statutory damages up to $1,000.00, actual damages (like pain and suffering) and the debt collector may have to pay for your attorney.  The FDCPA gives consumers the power to swing the pendulum in the other direction and sue the debt collector for violating your rights as a consumer.
A "debt" as defined by the FDCPA limited to "any obligation or alleged obligation of a consumer to pay money arising out of a transaction in which the money, property, insurance or services which are the subject of the transaction are primarily for personal, family, or household purposes, whether or not such obligation has been reduced to judgment."
But what happens when an individual guarantees a business debt?  For example, let's say you are a small business owner – you own a landscaping business.  You purchased an industrial grade lawnmower for your business on credit signing a personal guarantee for the loan.  The economy has not done well and your business failed.  The bank repossessed the lawnmower and has sold the deficiency balance debt to a debt buyer like CACH LLC who routinely buys commercial debts.  CACH's collection agent has been calling you all hours of the day and night and harassing you on the phone.  Can you sue the debt collector for violating the harassment prohibitions of the FDCPA?
Unfortunately, the answer is no.  Even when a debt collector is attempting to collect a debt from a guarantor rather than the business that borrowed the money in the first place, the debt is still not considered "consumer" and so it is not covered by the FDCPA.
While the FDCPA is not protecting you, you should at a minimum make the debt collector aware and accountable for its agents.  Make complaints and call your government representatives to let them know what is happening.
If you need help settling or defending a debt collection law suit, stopping harassing debt collectors or suing a debt collector, contact us today to see what we can do for you.
The Law Offices of Robert J. Nahoum, P.C
(845) 232-0202
www.nahoumlaw.com
info@nahoumlaw.com