By: Robert J. Nahoum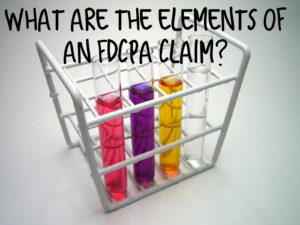 THE PROBLEM:
You've lost your job and fallen on hard times.  Debt collectors have been after you, and are becoming increasingly abusive and harassing. Some debt collectors have even crossed the line into illegal debt collection activities in violation of the Fair Debt Collection Practices Act.
What must you proven to succeed on a claim for violations of the Fair Debt Collection Practices Act?
THE RULES:
Federal debt collection laws called the Fair Debt Collection Practices Act (FDCPA for short), regulates the collection of consumer debts by third party debt collectors including collection agencies, junk debt buyers and debt collection lawyers.  The FDCPA generally prohibits the use of false, deceptive and harassing debt collection tactics.  If a debt collector violates the FDCPA, it can be sued for statutory damages up to $1,000.00, actual damages (like pain and suffering) and the debt collector may have to pay the consumer's attorney's fees.
A consumer who brings a suit under the FDCPA must prove the following elements in order to successfully make out his or her claim:
(1) That plaintiff is a "consumer" as defined by 15 U.S.C. § 1692a(3);
(2) That the debt arises out of a transaction entered into for personal purposes;
(3) That the defendant is a "debt collector" as defined by 15 U.S.C. § 1692a(6); and
(4) That the defendant violated one of the provisions contained in 15 U.S.C. §§ 1692a-1692o.
Is the Plaintiff a Consumer?
The term "consumer" means any natural person obligated or allegedly obligated to pay any debt.  Thus, the term consumer includes natural people but does not include businesses.
Is the Debt a Consumer Debt?
To be a consumer debt covered by the FDCPA, the debt must be any obligation or alleged obligation of a consumer to pay money arising out of a transaction in which the money, property, insurance or services which are the subject of the transaction are primarily for personal, family, or household purposes, whether or not such obligation has been reduced to judgment.
So, under the FDCPA's definition of a "debt", only consumer debts are covered – not business debts.
Is the Defendant a Debt Collector?
The term "debt collector" means any person who uses any instrumentality of interstate commerce or the mails in any business the principal purpose of which is the collection of any debts, or who regularly collects or attempts to collect, directly or indirectly, debts owed or due or asserted to be owed or due another.
This definition includes any creditor who, in the process of collecting his own debts, uses any name other than his own which would indicate that a third person is collecting or attempting to collect such debts.
Explicitly excluded from coverage under the FDCPA are:
(A) any officer or employee of a creditor while, in the name of the creditor, collecting debts for such creditor;
(B) any person while acting as a debt collector for another person, both of whom are related by common ownership or affiliated by corporate control, if the person acting as a debt collector does so only for persons to whom it is so related or affiliated and if the principal business of such person is not the collection of debts;
(C) any officer or employee of the United States or any State to the extent that collecting or attempting to collect any debt is in the performance of his official duties;
(D) any person while serving or attempting to serve legal process on any other person in connection with the judicial enforcement of any debt;
Did the Defendant Engage in any Prohibited Conduct?
The FDCPA is a comprehensive statute that prohibits a catalog of activities in connection with the collection of debts by third parties.  Common FDCPA violations include:
Communicating with a consumer who is known to be represented by an attorney
Suing on a time barred debt (usually 6 years)
Calling a consumer's friends and family to discuss the debt
Trying to collect unauthorized fees
Making false threats to garnish wages without intending to do so
Falsely threatening to sue without the intention of doing so
Attempting to collect a debt discharged in bankruptcy.
Calling before 8am
Calling after 9pm
Calling at times the debt collector knows to be inconvenient
Contact a consumer after receiving written demean to cease and desist
Lying or using other use deceptive means to collect a debt
Leave a message on an answering machine without saying that the collector is trying to collect a debt
Suing on the debt except a) where the consumer currently lives or b) where the consumer lived at the time he/she entered into the contract giving rise to the debt
Use or threaten to use violence
Misrepresenting the amount or status of the debt
WHAT YOU SHOULD DO:
The FDCPA gives consumers the power to turn the tables on the debt collector.  If a debt collector has used false, deceptive or harassing debt collection tactics against you, call a consumer attorney to see if you have a case.  If you do, you can sue the debt collector for statutory damages up to $1,000.00, actual damages (like pain and suffering) and best of all, the debt collector may have to pay for your legal fees.  This means an FDCPA case should not cost you a penny out of pocket.
If you need help settling or defending a debt collection law suit, stopping harassing debt collectors or suing a debt collector, contact us today to see what we can do for you.  With office located in the Bronx, Brooklyn and Rockland County, the Law Offices of Robert J. Nahoum defends consumers in debt collection cases throughout the Tristate area including New Jersey.
The Law Offices of Robert J. Nahoum, P.C
(845) 232-0202
www.nahoumlaw.com
[email protected]