By: Robert J. Nahoum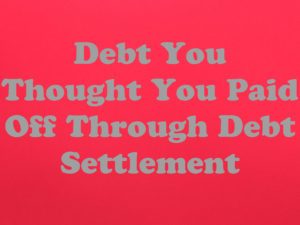 THE PROBLEM:
I have written before about debt settlement and how it works.  To be clear, I am no fan of debt settlement and think that it is generally a bad idea for any consumer.  In my opinion, the better mechanism for dealing with debt is usually a chapter 7 bankruptcy.
A common problem we see in our office with consumers who have gone through debt settlement, is being surprised to learn that a debt they thought they paid off through debt settlement turns out not to have been paid off.  This discovery usually comes when the consumer is served with a debt collection lawsuit or even worse, after discovering that a default judgment has been entered and wages have been garnisheed or a bank account has been frozen.
If you participate in a debt settlement, the best way to make sure there are no surprised out there waiting for you is to monitor your credit report.  Each year you are allowed one copy of your credit report from each of the three credit reporting agencies.  You can access those reports from Annual Credit Report https://www.annualcreditreport.com/index.action.
However, what I recommend is not to review all three at the same time. Rather, what you should do is pull one of the three every 4 months.  This way you are monitoring your report more regularly.  Also, there are free resources out there like Credit Karma where you can get constant access to your Transuion report for free.
If you need help settling or defending a debt collection law suit, stopping harassing debt collectors or suing a debt collector, contact us today to see what we can do for you.
The Law Offices of Robert J. Nahoum, P.C
(845) 232-0202
www.nahoumlaw.com
[email protected]