By: Robert J. Nahoum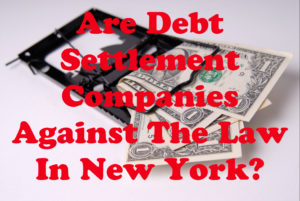 THE PROBLEM:
Being overwhelmed by debt is an all too common occurrence.  You lost your job, your hours got cut or maybe you just got behind on bills, whatever led you to this point, your debt has become more than you can handle.
These days we are inundated with advertisements for debt settlement – we hear it on the radio; see it on the TV, the billboards and on the subways.  But what exactly is debt settlement? Is it legal? Is it a good strategy for dealing with your debt?
THE RULES:
How Does Debt Settlement Work?
First let's understand how debt settlement companies work.  Most debt settlement companies promise to settle your debts for less than you owe.  To do this, they instruct you to stop paying your debts.  Those debts are eventually sold off to debt buyers for pennies on the dollar.  This gives the debt settlement company some room to settle because debt buyers will usually settle for much less than the original creditor.
The problem with this strategy is: (1) there are no guarantees that the debts will be sold and thus settle for less.  In some instances, the debts languish for long period of time under default accruing penalties and interest thereby increasing rather than decreasing the amount of the debt. (2) By strategically defaulting, you are sabotaging your credit.  (3) You may be paying the debt settlement company more in fees then you are saving settling accounts.  (4) You may be defaulting on accounts that were not even delinquent to begin with.
How Does the Debt Settlement Company Get Paid?
Here is where things start to get really ugly – you generally pay the debt settlement company some large up-front payment and create a "settlement" or "escrow" account.  Thereafter you make monthly payments into that account.  Out of this account is supposed to come the money you will be using to pay the settlement.  However, also out of this account comes the debt settlement company's fees.  At the end of the month, if there isn't enough to pay the debts and the debt settlement company, they get paid first.
Is it Legal?
There are no uniform laws that prohibit debt settlement companies.  Rather, there is a patchwork of federal, state and local laws that regulate the way in which debt settlement is done.
Leading the way in the regulation of debt settlement is the Telemarketing Sales Rule ("TSR").  The TSR, as its name suggests, relates to telemarketing.  However, under its rule making authority under the TSA, the Federal Trade Commission ("FTC") has established rules relating to debt settlement agreements born from telemarketing calls.
So long as telemarketing is involved, including outbound and inbound calls by consumers in response to advertising, debt settlement companies can collect a fee only after the consumer and creditor have entered into a settlement agreement and the consumer has made a payment to the creditor.  As the FTC's regulatory authority does not extend beyond telemarketing, the TSR does not apply to debt settlement contracts that involve face-to-face or online transactions.
The TSR's definition of "debt relief service" applies to for-profit debt settlement companies and debt negotiation companies. TSR exempts non-profit entities and does not apply in situations where a payment or authorization of payment is not required of the consumer until after a face-to-face meeting.
WHAT YOU SHOULD DO:
According to the New York City Department of Consumer Affairs "[d]on't pay up-front fees. Walk away from any company that tries to charge fees before services are performed. If a debt settlement company tries to charge you before achieving a settlement, file a complaint with the Federal Trade Commission (FTC). Go online to ftc.gov or call 877-FTC-HELP (877-382-4357).
Be wary if you are directed to enroll for debt settlement services online or in person. Debt settlement companies that use these tactics may be trying to evade the ban on charging fees upfront.
Don't assume that debt settlement companies are acting in your best interest—or are legitimate. Companies will claim to be non-profits, or to be affiliated with the government or claim to use lawyers to try to lure you in.
Know that debt settlement plans initially will increase your debt and are extremely unlikely to reduce any of your debt in the end.
Beware of damage to your credit score and the risk to you of legal action. Debt settlement can do long-lasting damage to your credit score, affecting your ability to get a loan, a credit card, or even housing or a job in the future. Your creditors may take legal action against you, such as legal judgments, lawsuits, collection activities, and freezing your bank accounts.
Save your paperwork. If you've been in contact with a debt settlement company, save any advertisements, letters, contracts, statements, or other documents you receive. And take notes about your phone calls."
The Bankruptcy Alternative
Chapter 7 bankruptcy is a legal process under which a person whose bills and debts are greater than his or her income surrenders non-exempt property in exchange for eliminating the obligation to pay his or her debts.
In a chapter 7 bankruptcy, the consumer files a petition asking the court to wipe out (discharge is the technical term) his or her debts.  In addition to the petition, the consumer also files (i) schedules of assets and liabilities; (ii) a schedule of current income and expenditures; (iii) a statement of financial affairs; and (iv) a schedule of executory contracts and unexpired leases.
If you need help settling or defending a debt collection law suit, stopping harassing debt collectors or suing a debt collector, contact us today to see what we can do for you.  With office located in the Bronx, Brooklyn and Rockland County, the Law Offices of Robert J. Nahoum defends consumers in debt collection cases throughout the Tristate area including New Jersey.
The Law Offices of Robert J. Nahoum, P.C
(845) 232-0202
www.nahoumlaw.com
[email protected]