By: Robert J. Nahoum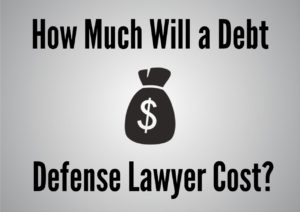 The Problem:
You have just been served was a summons and complaint or discovered that you have a default judgment entered against you.  It's a debt collector suing you on an old credit card or medical bill. You've done your homework on the internet and realized that you will need to hire a lawyer to represent you.  But how much will it cost? Will you spend more money on a lawyer than you've been sued for?
LAWYERS' FEES:
There are essentially 4 ways a lawyer can charge a client for legal service:
By the hour;
Flat fee;
Contingency fee; or
A blended fee comprising some combination of hourly, flat and contingency.
Traditionally, hourly billing has been the most common form of attorney billing.  However, anyone who has ever hired an attorney by the hour knows how quickly a legal bill can get out of hand.
Because debt collection lawsuits usually involve relatively small amounts of money, say a few thousand dollars, if a consumer is billed by the hour he or she can easily end up paying more to the lawyer than the debt collector.  For this reason, flat fees are a good way to avoid legal bill sticker shock.  Flat fee arrangements have become a popular and reasonable billing arrangement in debt collection cases.
In contingency fee cases, the lawyer's fees are contingent upon some success for the client.  Contingency fees are most familiar in personal injury cases where the attorney usually earns 33% of the settlement or verdict.  However, contingency fees are also common in consumer rights cases. Most consumer rights laws like the Fair Debt Collection Practices Act (FDCPA) and Fair Credit Reporting Act (FCRA) are "fee shifting" meaning that if successful, the debt collector pays the consumer's legal fees.  For this reason, most consumer attorneys will take a consumer rights case on a contingency basis where the client doesn't pay any out of pocket fees.
What You Should Do:
If you've been sued in a debt collection lawsuit, shop around for an experienced consumer lawyer and consider whether his or her fee arrangements suit your needs.  Ask about flat fees verses billable fees. If you have a consumer rights case, shop around for an experienced consumer rights lawyer who offers contingency fee billing.
The Law Offices of Robert J. Nahoum, P.C
(845) 232-0202
www.nahoumlaw.com
[email protected]