Hey Debt Collector, Play By the Rules or Pay Me $1,000.00! Unfair Debt Collection Practices.
By: Robert J. Nahoum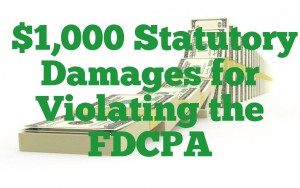 Federal debt collection laws known as the Fair Debt Collection Practices Act (FDCPA for short) generally prohibits debt collectors from using unfair or unconscionable debt collection practices when trying to collect a debt. But the question is what unfair debt or unconscionable debt collection practices?
The prohibited conduct includes, but is not limited to:
The collection of any amount (including any interest and penalties) unless that amount is expressly authorized by the agreement creating the debt or permitted by law.
Depositing or threatening to deposit any postdated check prior to the date on such check.
Communicating with a consumer regarding a debt by post card.
Using any language or symbol, other than the debt collector's address, on any envelope when communicating with a consumer.
Without your prior consent, communicating with any person other than you or your attorney in connection with the collection of a debt.
Calling you before 8 am or after 9 pm.
Calling you an unreasonable number of times.
Using profane or other abusive language.
Contacting you after receiving a cease and desist letter.
Threatening you with consequences for refusing to pay that legally can't be taken (like going to jail or violence).
If a debt collector violates the FDCPA, you can sue for statutory damages up to $1,000.00 plus actual damages (like pain and suffering) and your attorney's fees.  In FDCPA cases, most good consumer lawyers don't charge their clients a penny out of pocket.
The Law Offices of Robert J. Nahoum, P.C
(845) 232-0202
www.nahoumlaw.com
info@nahoumlaw.com