By: Robert J. Nahoum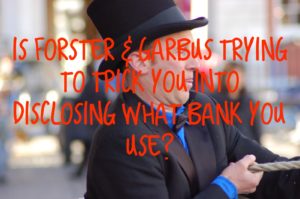 THE PROBLEM
You were sued by a debt collector on an old credit card debt and a judgment has been entered against you.  You've been making payments from time-to-time to their lawyers Forster & Garbus, LLP over the phone or through their convenient online payment system.
Tough times are getting tougher and you must choose which bills get paid and which ones don't.  You decide that paying the rent is more important than paying Forster & Garbus, so you stop paying down the judgment.
What is Forster & Garbus going to do to you?
THE RULES
One of the quickest and most effective ways a judgment creditor can enforce a judgment is by freezing a bank account.
A "restraining notice" is a judgment enforcement device that a judgment creditor can serve on any person (or entity) that is holding property of the debtor, who may come into possession of property belonging to the debtor or who owes a debt to the debtor.  The restraining notice essentially freezes the status quo and prevents the recipient of the restraining notice from giving the debtor back his property.  The judgment creditor can then make a motion to the court to have that restrained property turned over or he can engage the Sheriff or Marshall to seize and levy on the property.
The most common example of the use of a restraining notice is where the judgment creditor serves a bank, instructing that any money in the debtor's account be frozen.  In order for a judgment creditor to successfully freeze a bank account, they first have to know where you bank.
According to their website and on their automated phone system, Forster & Garbus claims that they you can pay them only with a debit card, not with a credit card.  By pushing debtors into making debit card payments, Forster & Garbus now knows not only where you bank but what your account number is.  This is information they would not have known if your payments were made with a credit card.
WHAT TO DO
If you are paying off a debt collection judgment to Forster & Garbus, keep your bank account a secret by mailing in money orders.
If you need help settling or defending a debt collection law suit, filing for bankruptcy, stopping harassing debt collectors or suing a debt collector, contact us today to see what we can do for you.  With office located in the Bronx, Brooklyn and Rockland County, the Law Offices of Robert J. Nahoum defends consumers in debt collection cases throughout the Tristate area including New Jersey.
The Law Offices of Robert J. Nahoum, P.C
(845) 232-0202
[email protected]