Debt Collection Law Firm Eltman Law Filed Only 3 New NY Debt Collection Cases In 2016
By: Robert J. Nahoum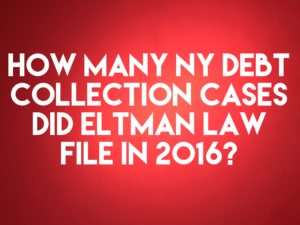 Infamous debt collection law firm Eltman Law, PC started as a local New York debt collection law-firm mill but has been rapidly growing.  According to their website, Eltman Law is now collecting debts in California, Florida, Georgia, Kentucky, Michigan, New Jersey, New York, Ohio, Pennsylvania, Tennessee and Texas.
Eltman Law represents creditors and debt buyers who buy portfolios of old debt from banks, credit card companies, hospitals, doctors, cell phone companies and car companies for pennies on the dollar and then sue for the full balance.
According to the New York State Unified Court System, Eltman Law filed only 3 new New York debt collection lawsuits in 2016.  Despite this extraordinary low number of filings, Eltman Law remains a very active debt collector in other states and still in New York pursing judgments awarded years ago, to debt buyers and other law-firms.
Eltman Law has described itself as "judgment enforcement experts" so it comes as no surprise that old zombie judgments awarded to other lawyers would be transferred and revived by Eltman Law to try and collect.
While Eltman Law is a law-firm, in reality it is more like a glorified collection agency able to use the courts as a debt collection tool.  Once a judgment is obtained, law-firm debt collectors like Eltman Law can freeze bank accounts, garnishee wages and issue subpoenas.
Eltman Law is an alleged notorious violator of federal debt collection laws known as the Fair Debt Collection Practices Act (FDCPA) and is sued regularly by consumers for these violations.  The FDCPA is a federal law that regulates the collection of consumer debts. It precludes third party debt collectors from using false, misleading, deceptive and harassing debt collection tactics.
Accusations against debt collectors like Eltman include
Harassing consumers over the phone,
Misleading consumers about the character, amount or legal status of the debt
Communicating with consumers who demanded that communications cease and desist,
Suing consumers in the wrong court,
The collection of amounts not authorized agreement or by law.
Without the consumer's consent, communicating with third parties.
Calling consumers before 8 am or after 9 pm.
Calling consumers an unreasonable number of times.
Using profane or other abusive language.
Law-firm debt collectors like Eltman Law employ few attorneys but many debt collection agents.  In fact, if you call them, you will not speak with an attorney, you will speak with a debt collection agent who is probably being paid a commission for any money he or she collects from you.
If you need help settling or defending a debt collection law suit, stopping harassing debt collectors or suing a debt collector, contact us today to see what we can do for you.  With office located in the Bronx, Brooklyn and Rockland County, the Law Offices of Robert J. Nahoum defends consumers in debt collection cases throughout the Tristate area including New Jersey.
The Law Offices of Robert J. Nahoum, P.C
(845) 232-0202