By: Robert J. Nahoum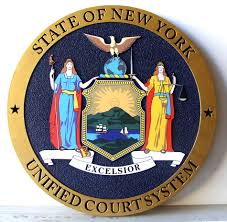 The New York court system is called the "New York State Unified Court System".  However, the courts don't always seem to be "unified".  There are a variety of different courts in different parts of the state that hear different kinds of cases.  Each county has a "Supreme Court".  The Supreme Court has the jurisdictional authority to hear any kind of case but generally only hears cases where the amount in dispute is over $25,000.00.
The $25,000.00 jurisdictional limit of the Supreme Court leaves most debt collection cases to be heard in other courts.  Those courts can be divided into three categories: (1) Cases in which the defendant (the person being sued) lives New York City; (2) Cases in which the defendant lives in any other city that is NOT New York City; and (3) Cases where the defendant lives somewhere other than a city like a town of village.
THE NEW YORK CITY CIVIL COURT
The Civil Court of the City of New York has jurisdiction over civil cases involving amounts up to $25,000.  It includes a small claims part for informal dispositions of matters not exceeding $5,000 and a landlord and tenant/housing part for landlord-tenant matters of unlimited amounts and housing code violations.
Each of the five boroughs has Civil Court division located at:
Bronx
851 Grand Concourse
Bronx NY 10451
Brooklyn, (Kings County)
141 Livingston Street
Brooklyn, NY 11201
Manhattan (New York County)
111 Centre Street
New York, NY 10013
Queens
89-17 Sutphin Boulevard
Jamaica, New York 11435
Richmond (Staten Island)
927 Castleton Avenue
Staten Island, New York 10310
The civil procedure rules for the Civil Court of the City of New York is called the "New York City Civil Court Act" and is cited as "CCA".
Under the CCA, for consumer debt collection cases brought against a New York City consumer, the case must be filed in the county in which the consumer lives.
CITY COURTS OUTSIDE OF THE CITY OF NEW YORK
All cities outside of the City of New York have their own city courts.  The city courts are courts of limited jurisdiction covering civil actions involving $15,000.00 or less in monetary damages.  The downstate city courts where our office most often sees debt collocation cases include:
Beacon City Court
1 Municipal Plaza
Beacon City Municipal Building
Beacon, NY 12508
(845) 431-1900

Kingston City Court
1 Garraghan Drive
Kingston City Courthouse
Kingston, NY 12401
(845) 481-9351

Middletown City Court
2 James Street
Middletown, NY 10940
(845) 476-3630

Mount Vernon City Court
2 Roosevelt Square North
2nd Floor
Mount Vernon, NY 10550-2060
(914) 831-6440

New Rochelle City Court
475 North Street
New Rochelle, NY 10801
(914) 358-8000

Newburgh City Court
300 Broadway
Newburgh, NY 12550
(845) 483-8100

Peekskill City Court
2 Nelson Avenue
Peekskill, NY 10566
(914) 831-6480

Port Jervis City Court
20 Hammond Street
Port Jervis City Hall
Port Jervis, NY 12771
(845) 476-3700

Poughkeepsie City Court
62 Civic Center Plaza
Poughkeepsie City Hall
Poughkeepsie, NY 12601
(845) 483-8200

Rye City Court
21 McCullough Place
Rye, NY 10580
(914) 831-6400

White Plains City Court
77 South Lexington Avenue
White Plains, NY 10601
(914) 824-5675

Yonkers City Court
100 South Broadway
R.W. Cacace Justice Center
Yonkers, NY 10701
(914) 831-6450
The civil procedure rules for the City Courts outside of the City of New York is called the "Uniform Civil Rules For The City Courts Outside The City Of New York".
Under the Uniform Rules, at least one of the parties (Plaintiff or defendant) must live or have a place of business located within the city where the suit is filed.  This is a different rule than under the CCA which requires that the case be brought only in the county where the defendant lives.
TOWNS AND VILLAGES
Courts found in the many towns and villages throughout the state have what are called "Justice Courts".  There are almost 1300 locally-funded Justice Courts located throughout New York State with jurisdiction over a broad range of matters, including vehicle and traffic matters, small claims, evictions, civil matters, criminal offenses and debt collection.
Justice Courts hear actions seeking monetary awards up to $3,000.00 and small claims proceedings for awards up to $3,000.00.  These courts also handle landlord/tenant matters that may result in an eviction as well as a money judgment for back rent that is due.
Justice Courts are best known for their small claims parts.  Small claims proceedings are intended to provide a low-cost, simplified and informal procedure for individuals to resolve disputes involving limited monetary claims. Often individual litigants do not use an attorney in these matters and are not required to do so.
The civil procedure rules for the City Courts outside of the City of New York is called the "Uniform Justice Court Act".
The location in which a debt collection case is filed is a matter of consumer protection.  When enacting federal debt collection laws called the Fair Debt Collection Practices Act (FDCPA for short), Congress intended to eliminate abusive debt collection practices by collection agencies and other debt collectors.  Among the abusive practices that Congress intended the FDCPA to eliminate was the "problem of 'forum abuse,' an unfair practice in which debt collectors file suit against consumers in courts which are so distant or inconvenient that consumers are unable to appear," thus allowing the debt collector to win a default judgment.  S.Rep. No. 95-382, at 5 (1977), reprinted in 1977 U.S.C.C.A.N. 1695, 1699.
The FDCPA's venue provisions require that consumer debt collection lawsuits be brought "only in the judicial district or similar legal entity in which [the] consumer resides at the commencement of the action" or where the "consumer signed the contract sued upon."
If a debt collector violates the FDCPA, you can sue the debt collector for statutory damages up to $1,000.00, actual damages (like pain and suffering) and the debt collector may have to pay for your attorney.
If you need help settling or defending a debt collection law suit, stopping harassing debt collectors or suing a debt collector, contact us today to see what we can do for you.  With office located in the Bronx, Brooklyn and Rockland County, the Law Offices of Robert J. Nahoum defends consumers in debt collection cases throughout the Tristate area including New Jersey.
The Law Offices of Robert J. Nahoum, P.C
(845) 232-0202