Cavalry Portfolio Loses Summary Judgment Where Consumer Objected to Account Statement
November 23, 2015
rnahoum
By: Robert J. Nahoum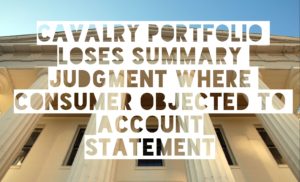 Debt collectors can often win debt collection lawsuits based on a standard called "Summary Judgment" (also referred to as "judgment as a matter of law").  Summary judgment is awarded in favor of one party and against the other without a trial.  To win summary judgment, the proponent must show that all the evidence likely to be put before the Court demonstrates that no reasonable fact-finder (jury) could disagree with the proponent because there is no real dispute as to what happened, there are no material factual issues in dispute requiring a trial and so the proponent should win as a matter of law.
Debt collectors typically try to win their cases by summary judgment on an "account stated theory" where the defendant has filed an answer and is defending the lawsuit.  Under the "account stated theory, the debt collector has to show that (1) an account statement was presented to the consumer; (2) it was accepted by the consumer as correct (which can be inferred from his or her failure to raise a timely objection to the amount stated as due); and (3) the debtor promised to pay the amount stated.
The infamous debt buyer Cavalry Portfolio Services lost one such case in Supreme Court of the State of New York, Queens County.  In this case, Cavalry sued the consumer for $29,218.77.  When the consumer filed her answer and defended the case, Cavalry filed a motion for summary judgment on an account stated theory.
Relying on the defendant's proposition that she did in fact object to creditor's account statement (the second element of an account stated claim) Judge Lawrence V. Cullen ruled that "inasmuch as there is a triable issue of fact as to whether the subject charges were authorized charges, and the amount owed by defendant, if any, plaintiff's motion for summary judgment is hereby
If you need help settling or defending a debt collection law suit, stopping harassing debt collectors or suing a debt collector, contact us today to see what we can do for you.  With office located in the Bronx, Brooklyn and Rockland County, the Law Offices of Robert J. Nahoum defends consumers in debt collection cases throughout the Tristate area including New Jersey.
The Law Offices of Robert J. Nahoum, P.C
(845) 232-0202
www.nahoumlaw.com
info@nahoumlaw.com