By: Robert J. Nahoum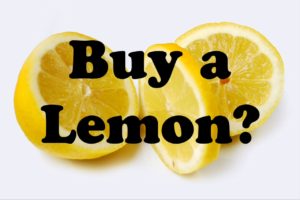 In these days of belt tightening and budget cutting more and more people are foregoing bright shiny new cars for ones perhaps a little less new and with a bit less luster.  Here in New York, I am seeing measurably more older cars on the road then I have before.  But delving into the used car market is not for the faint of heart – it often requires a stiff upper lip and a strong stomach.  Where do you go – dealership, used car dealer, private seller – Craigslist, eBay Auto, the newspaper?  Who can you trust? How do you know what you're buying?
Whatever path you take, your desire is the same – to not get screwed!  Fortunately, the State of New York State has consumer protection laws on the books designed to protect you in your used car adventure.
The New York State Used Car Lemon Law provides a legal remedy for buyers of qualifying used lemons.  The law requires dealers to give consumers a written warranty under which the dealers must repair, free of charge, any defect in covered parts.  If the dealer is unable to repair the car after a reasonable number of attempts, the consumer is entitled to a full refund.
WHAT CARS A COVERED BY THE USED LEMON LAW?
Cars covered by the lemon law and thus subject to the mandatory warranty include vehicles that were:
purchased, leased or transferred after the earlier of 18,000 miles or two years from original delivery; AND
purchased or leased from a New York dealer; AND
had a purchase price or lease value of at least $1,500; AND
has been driven less than 100,000 miles at the time of purchase/lease; AND
is used primarily for personal purposes.
HOW LONG IS THE WARRANTY?
The length of the New York Used Car Lemon Law warranty depends on the mileage on the car at the time of purchase:
Warranty Length:
| | |
| --- | --- |
| Miles of Operation | Duration of Warranty |
| 18,001-36,000 miles | 90 days or 4,000 miles |
| 36,001-79,999 miles | 60 days or 3,000 miles |
| 80,000-100,000 miles | 30 days or 1,000 miles |
WHAT IS COVERED BY THE WARRANTY? 
The New York Used Car Lemon Law warranty covers the following:
| | |
| --- | --- |
| Engine: | lubricated parts, water pump, fuel pump, manifolds, engine block, cylinder head, rotary engine housings and flywheel. |
| Transmission: | the transmission case, internal parts, and the torque converter. |
| Drive Axle: | the front and rear axle housings and internal parts, axle shafts, propeller shafts and universal joints. |
| Brakes: | master cylinder, vacuum assist booster wheel cylinders, hydraulic lines and fittings and disc brake calipers. |
| Steering: | the steering gear housing and all internal parts, power steering pump, valve body, piston and rack. |
| Other Parts: | Radiator, Alternator, Generator, Starter, and Ignition System (excluding battery). |
WHAT ARE THE DEALERS' DUTIES TO REPAIR?
A reasonable chance for an auto dealer to repair a problem for a used car is considered to be:
three or more repair attempts and the problem continues to exist; OR
the car is out of service by reason of repair for a cumulative total of 15 days or more (unavailability of parts may extend this time).
WHEN IS A DEALER NOT REQUIRED TO PROVIDE A REFUND:
the problem does not substantially impair the value of the car to the consumer; OR
the problem is a result of abuse, neglect or unauthorized alteration of the car.
WHAT SHOULD CONSUMERS DO IF THEY THINK THEY HAVE A LEMON:
If you recently purchased a used vehicle and you're having mechanical problems, you should immediately report the problem to the dealer and demand that the repairs be made.  Put everything in writing and keep good records of all repairs, worker orders, bills and letters.  If this doesn't get you anywhere, consider hiring a qualified consumer protection attorney familiar with the New York Lemon Law.
About the Author
Robert Nahoum is a Hudson Valley (with offices in Nyack, Rockland County) attorney practicing consumer protection and general litigation in the Tri-State Area including New York City, Westchester, Rockland, Nassau, Suffolk, Bergen County New Jersey and Fairfield County Connecticut.  His practice includes consumer protection, Fair Debt Collection Practices Act (FDCPA), Fair Credit Reporting Act (FCRA), debtor's rights, debt defense, mortgage foreclosure, Truth In Lending, Auto Fraud, Used Car Lemon Law, New Car Lemon Law and general civil litigation.
Robert J. Nahoum, Esq.
The Nyack Business Center
99 Main Street, Suite 311
Nyack, NY 10960-3109
Ph:     (845) 450-2906
Fax:   (888) 450-8640
Email: [email protected]
Web:   www.NahoumLaw.com
Knowledge is power and it is my intention to empower my readers to be victors instead of victims when the go out in the marketplace.