5 Things to know Before Appearing in the New York City Civil Court for a Debt Collection Case
By: Robert J. Nahoum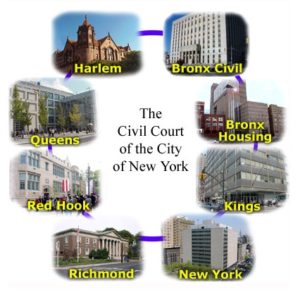 You've been served was a summons and complaint or discovered that you have a default judgment entered against you.  It's a debt collector suing you on an old credit card or medical debt.  You filed your answer or your order to show cause and now have a court date.
One of the important questions you are now asking yourself is – What Should I know Before Appearing in the New York City Civil Court for a Debt Collection Case?
If you find yourself with a court date in the New York City Civil Court, here are 5 things to know before your appearance:
Get to the courthouse extra early. Most calendars in the New York City Civil Court begin at 9:30 am.  For this reason, everyone with business in the courthouse is arriving around the same time.  The lines to get through security can be very long.  If you are late, you risk losing your case.
Know where you're going. The New York City Civil Courts are very busy with hundreds of cases being heard in dozens of rooms on multiple floors.  Running around the building looking for the right room could end up in you missing your court date. Know ahead of time which room you are scheduled to be in.
Bring your papers with you. If you have papers pertinent to your case, be sure to bring them with you.  If you don't have your papers, you will likely end up with an adjournment and have to come back on another day which could be weeks or even months later.
Know your case and be prepared. Whatever the reason for your court appearance, you will make a much better impression on the judge and do a far better job advocating your position if you know the facts of your case.  It can be helpful to write up a timeline and narrative of events to refresh your memory should you forget an important fact.
Be prepared to come back again. For a variety of reasons, court dates are routinely "adjourned".  "Adjourned" simply means that the court date is put off to a later date.  Because court dates are so often adjourned, especially in the New York City Civil Court, motions can sometimes take 2, 3 and sometimes even more trips to the courthouse.
If you need help settling or defending a debt collection law suit, filing for bankruptcy, stopping harassing debt collectors or suing a debt collector, contact us today to see what we can do for you.  With office located in the Bronx, Brooklyn and Rockland County, the Law Offices of Robert J. Nahoum defends consumers in debt collection cases throughout the Tristate area including New Jersey.
The Law Offices of Robert J. Nahoum, P.C
(845) 232-0202
info@nahoumlaw.com