Debt Collection Law-Firm Eltman, Eltman and Cooper, PC Changed Its Name to Eltman Law, PC
By: Robert J. Nahoum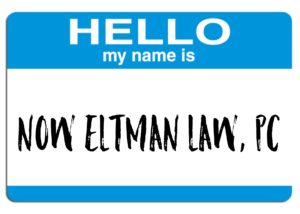 Infamous debt collection law firm Eltman, Eltman and Cooper, PC started as a local New York debt collection mill but have been rapidly growing.  According to their website, Eltman is now collecting debts in California, Florida, Georgia, Kentucky, Michigan, New Jersey, New York, Ohio, Pennsylvania, Tennessee and Texas.
Eltman, began as a captive law-firm and essentially the in-house legal department to notorious debt collection agency Erin Capital Management.  With its growth, Eltman has apparently expanded its client base beyond Erin Capital, changed its name to Eltman Law PC and moved its headquarters from New York City across the Hudson River to the much more affordable Jersey City, New Jersey.
Whatever you call it, Eltman is alleged as notorious violators of federal debt collection laws known as the Fair Debt Collection Practices Act (FDCPA) and are sued regularly by consumers for these violations.  The FDCPA is a federal law that regulates the collection of consumer debts. It precludes third party debt collectors from using false, misleading, deceptive and harassing debt collection tactics.
Accusations against debt collectors like Eltman include
Harassing consumers over the phone,
Misleading consumers about the character, amount or legal status of the debt
Communicating with consumers who demanded that communications cease and desist,
Suing consumers in the wrong court,
The collection of amounts not authorized agreement or by law.
Without the consumer's consent, communicating with third parties.
Calling consumers before 8 am or after 9 pm.
Calling consumers an unreasonable number of times.
Using profane or other abusive language.
If Eltman or any of its clients have harasserd you, consider hiring a qualified attorney experienced in debt defense and the Fair Debt Collection Practices Act.  If a debt attorneys like Eltman violate the FDCPA, you can sue for statutory damages up to $1,000.00 plus actual damages (like pain and suffering) and your attorney's fees.  In FDCPA cases, most good consumer lawyers don't charge their clients a penny out of pocket.
If you need help settling or defending a debt collection law suit, stopping harassing debt collectors or suing a debt collector, contact us today to see what we can do for you.  With office located in the Bronx, Brooklyn and Rockland County, the Law Offices of Robert J. Nahoum defends consumers in debt collection cases throughout the Tristate area including New Jersey.
The Law Offices of Robert J. Nahoum, P.C
(845) 232-0202