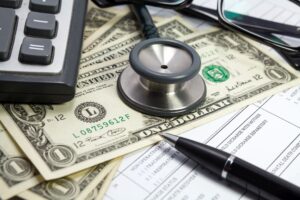 By: Robert J. Nahoum
On April 11, 2023, the three major credit reporting agencies, Equifax, Experian, and TransUnion, (the CRAs) announced that that medical debt with an initial reported balance of under $500 has been removed from U.S. consumer credit reports.  This announcement comes after a 2020 file issued by the, the Consumer Financial Protection Bureau (CFPB) requiring credit reporting agencies to remove medical debt from credit reports once it has been paid by an insurance company and a 2017 commitment made by the CRAs to implement a 180-day waiting period before medical debts can be reported on credit reports.
About the new policy, Mark W. Begor, CEO Equifax, Brian Cassin, CEO Experian, and Chris Cartwright, CEO TransUnion said
'Our industry plays an important role in the financial lives of consumers. We understand that medical debt is generally not taken on voluntarily and we are committed to continuously evolving credit reporting to support greater and responsible access to credit and mainstream financial services," … "We believe that the removal of medical collection debt with an initial reported balance of under $500 from U.S. consumer credit reports will have a positive impact on people's personal and financial well-being.
Overall, while medical debt can still affect consumers' credit scores, these changes provide considerable relief and protection for consumers who may have incurred medical debt due to unforeseen circumstances. It is always a good idea to monitor your credit report regularly and address any errors or discrepancies that may appear.
If you need help settling or defending a debt collection lawsuit, stopping harassing debt collectors or suing a debt collector, contact us today to see what we can do for you.  With office located in the Brooklyn and the Hudson Valley, the Law Offices of Robert J. Nahoum defends consumers in debt collection cases throughout the Tristate area including New Jersey.
The Law Offices of Robert J. Nahoum, P.C
(845) 232-0202